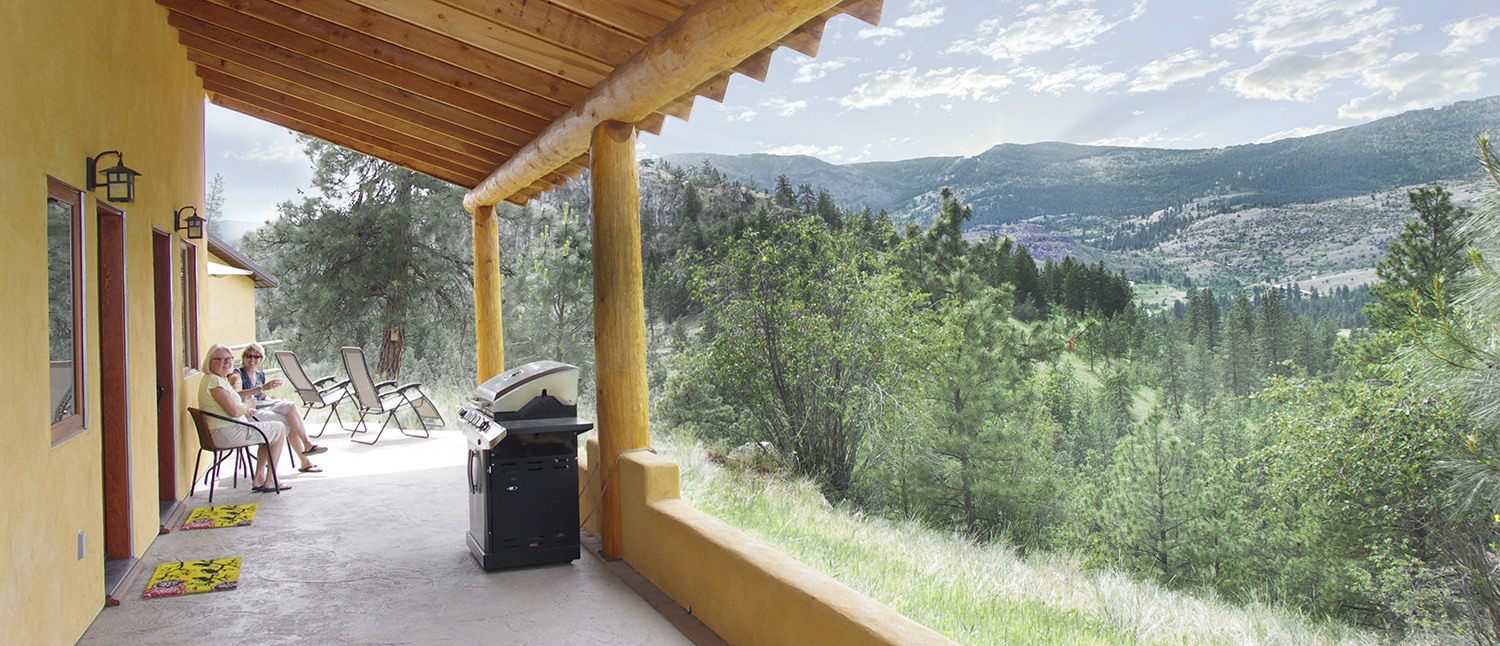 The perfect get away.  High Chaparral  offers everything most of us are looking for…a beautiful view of grasslands, forest and mountains. No light or noise pollution – just a peaceful, relaxing setting.  The guest house is well-appointed – we enjoy barbequing on the deck, reading in our private sitting room – we even turned on the fireplace for ambiance. 
The special welcome from our hosts was again much appreciated. 
Highly recommended for a couple's getaway or to spend time with special friends who also have their own private suite to retire to.  It is less than 10 minutes to great wineries and we've enjoyed lunch at both Tinhorn Creek and Hester Creek.
Okanagan Explorers
Came up in early July from Vancouver for a two-night stay. An oasis in the hills above Oliver. Truly a magical and tranquil guest house property with the nicest of innkeepers. High Chaparral Guesthouse was the perfect place to be.  So close to great wineries and amazing restaurants.
Early morning coffee and breakfast in a nicely appointed kitchen felt like home.  It was great coming back to the guest house at the end of a day visiting wineries in the locale just a short drive away. Just a beautifully laid out guest house in a peaceful setting, one that I'll definitely come back to again.
Highly recommend 🙂
Jo
My husband and I were looking for a place in Oliver near our wedding venue. We had a voucher and used it for 3 nights. We are so glad we stayed the extra 3rd. night. Our usual holiday is one of busyness so to be less busy and more leisurely was a new experience for us. We loved the serene setting – the best sleep I have had in ages, no noise of cars, sirens or traffic just total stillness. We toured wineries , went to the town beach, star gazed to the wee hours of the night, no mosquitos – a big plus. Used the very modern shared kitchen for 2 meals and some coffee time it has a personal fridge for each suite – the only thing shared is really the stove, the large BBQ and sink otherwise the kitchen area is separated.
One day we watched a mama black bear playing with her cub on the nearby hillside – a National Geographic moment for us; also lots of deer on the property. The units are well designed with impressive wood beams in keeping with a southwest flavor very nicely furnished you won't be disappointed, comfortable large bed.
Complimentary wine, coffee and
condiments.
Lots of
nice places to eat in the area.
We would love to come back and stay sometime as it holds a special place in our hearts.
Lorrie S.
We had a wonderful time at the beautiful and thoughtfully furnished High Chapparal guest house.  From the patio, there is a magnificent view of the dry ponderosa mountains, and not a house in sight.  I was enchanted by the sight of flocks of geese heading south, a bird of prey diving so swiftly it whistled as it went by, and a coyote running lightly through the woods.  The wireless worked perfectly, and I was able to put in several hours of work, sitting on the patio with a glass of wine.  In the afternoon, we drove down into the valley to visit a few wineries, and there are many delicious ones nearby.  On the way, we stopped at Covert Farms to purchase organic vegetables for our supper.  At night, we slept very well in the warm and comfortable bed, with nothing but the wind and the crickets to disturb our rest.  Our weekend was very restful – a perfect break from our busy lives at home.
Magical Getaway